[Chemical name]1-ß-D-Ribofuranosyl -1,2,4- t riazolc-3-Carboxamide
[Molecular formula]C8H12N4O5
[Molecular weight]244.21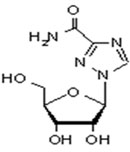 [Use]Ribavirin is broad--spectum antivirotic drug. It is used in viral infection ofrespiratory, influenza, encephalitis B, Virus pneumonia, infant adenovirus pneumonia,
viralhepatitis, paro-titis, herpes varicellosus, herper zoster, herpes mouth, herpes genitalis, measles,viral keratitis, conjunctivitis, trachoma, rhinovirus, plasmodiai viral flat wart,psoriasis auturmn diarrhea and korin tever.
[Standard]
Description:White crystalline powder, odourless, tasteless
Specific rotation:-33.5o~37.0o
Loss on drying: ≤0.5%
Residue on ignition: ≤0.25%
Heavy metals: ≤10ppm
PH:4.0-6.5
Assay:98.9%~101.5%
In compliance with USP 30 and CP2005
[Storage]Preserved in tight containers from light.